SIGNS CHUCK NEGRON, FORMERLY OF THREE DOG NIGHT, FOR PR REPRESENTATION
NASHVILLE, Tenn. (May 1, 2017) – Nashville entertainment entrepreneur and PR and marketing professional Zach Farnum announced today the creation of 117 Entertainment Group. Farnum's most recent stops include Webster PR and Hart Street Entertainment working with icons including Charlie Daniels, Don McLean, Randy Travis and more. He also co-chairs the T.J. Martell Young Professionals Council and is active with the Nashville Association of Talent Directors. The flagship artist for the new firm will be legendary vocalist, Chuck Negron, former member of one of the most prolific vocal groups to come out of the 1970s, Three Dog Night.
"It's exhilarating to be starting out on a new adventure doing what I love — sharing talented and deserving artists and great music with the world," said Farnum, "I want to create an honest and reliable company that does outstanding work. It doesn't get much better than kicking it all off with a true icon like Chuck Negron. His voice is ingrained in music history and has been the soundtrack for millions of people across the world through the years, it's an honor to work with him."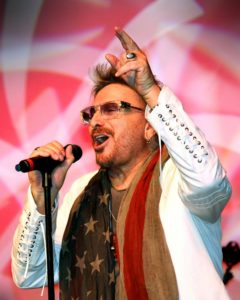 Three Dog Night racked up 18 consecutive top 20 hits, 21 top 40 hits, eight top 10 hits and four number one hits – which included five top 10 albums and eleven top 20 albums. Negron's lead vocals are featured on most of their iconic hits including "Joy to the World," "Easy to be Hard" and "One."
"After over 5 decades of recording, and 90 million records sold, to find myself excited about being represented by a new PR firm is a pleasant surprise to me. We have some great new projects coming up, and I am confident that Zach will do a great job getting the fans as pumped up about them as we are," said Chuck Negron.
Negron will tour for his fourth year on the critically-acclaimed, Happy Together tour, joining headliners The Turtles featuring Flo and Eddie as well as The Association, The Box Tops, The Cowsills and The Archies starring Ron Dante. He will also be announcing the release of multiple special projects in 2017, all while celebrating 25 years of sobriety after an infamous and very public life or death battle with addiction during his Three Dog Night years.
About Zach Farnum
Zach Farnum has managed PR campaigns for an eclectic list of artists including Charlie Daniels, Don McLean, Randy Travis, Bobby Bare, T.G. Sheppard, Tommy Roe and many more, as well as high-profile events and festivals including A Heroes and Friends Tribute to Randy Travis, Charlie Daniels' Volunteer Jam, Country Stampede, Tree Town Music Festival and more. With prior stops including Webster PR and Hart Street Entertainment, Farnum brings a brand-driven approach to publicity and marketing campaigns and continues to be a go-to publicist for prominent agencies, managers and record labels. He is also a co-chair of the TJ Martell Foundation's Young Professionals Council and is active with the Nashville Association of Talent Directors.
About Chuck Negron
Chuck Negron, formerly of Three Dog Night, has been captivating audiences for over five decades with his iconic vocals, unique humor and brilliant storytelling. His catalog of hits are timeless and appeal to music fans of all ages. In 1967, Negron became a founding member of Three Dog Night; a vocal trio having roots in R&B, rock-n-roll, and urban doo wop, creating a style of music that was totally new and unique. The world was introduced to Negron and Three Dog Night in 1969 by the band's first million-seller "One." Driven by Negron's solo lead vocals on four million-selling singles, three #1 records, (one which topped the charts for six weeks, "Joy to The World") five top 5 hits and seven top 40 hits, he put and kept Three Dog Night on the charts for six years. He performs upwards of 70 shows a year giving audiences the opportunity to hear his impressive volume of hits plus an exciting repertoire of new songs from his numerous solo CD's. Negron is currently gearing up to release a new album backed by the vocal talents of his two youngest daughters, Charlotte Rose and Annabelle Quinn.
For more information please visit chucknegron.com.