TUNE IN: SKYVILLE LIVE TO HONOR JERRY LEE LEWIS WITH PERFORMANCES FROM GEORGE STRAIT, TOBY KEITH, KRIS KRISTOFFERSON AND MORE AUGUST 24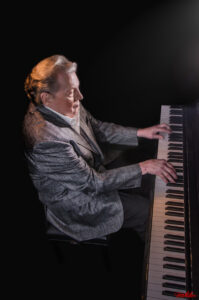 (click for Downloadable Photo)
"There are men, and then there are myths. Jerry Lee Lewis is the latter." – Jordan Runtagh, People Country
NASHVILLE, Tenn. (August 23, 2017) – Emmy-Award winning online music series, Skyville Live will feature a stellar lineup of artists honoring Jerry Lee Lewis on Thursday. Artists appearing on the show include George Strait, Toby Keith, Kris Kristofferson, Chris Stapleton, Lee Ann Womack, Waylon Payne and Jerry Lee himself. Fans at home can stream the magic as it happens on AOL, Yahoo Music! and Rated Red on August 24 at 9 p.m. ET/8 p.m. CT. Full streaming details can also be found at SkyvilleLive.com.
The City of Nashville and Berry Hill will both honor Jerry Lee Lewis by celebrating Aug. 24th, 2017 as "Jerry Lee Lewis Day."
2017 marks the 60th Anniversary of mega-hits "Whole Lotta Shakin'" and "Great Balls of Fire," both of which were recorded at Sam Phillips' Memphis-based Sun Records. People Country recently sat down with "The Killer" prior to a New York City performance at B.B. King's to discuss these hits and reflect on his career overall. The music icon took rare time to discuss his favorite music, memories of Elvis, the meaning of rock n' roll and much more.
About Jerry Lee Lewis
Jerry Lee Lewis is one of the all-time best singer-songwriters, musicians, and pianists. A true American Stylist akin to all-time greats Hank Williams, Jimmie Rodgers and Al Jolson, he is an architect of great genres such as Rock n' Roll and Rockabilly as well as a commander of Country music and the Blues.
He was born in 1935 to Mamie and Elmo Lewis of Ferriday, Louisiana. In November of '56 Jerry Lee made his way to Memphis, Tennessee where he would join Sun Records and launch hit records with "Crazy Arms," "Whole Lotta Shakin,'", and "Great Balls of Fire." Jerry Lee, along with with his friends, Johnny Cash, Elvis Presley and Carl Perkins would become known as the Million Dollar Quartet and there is not any part of music that their influences haven't touched. As a member of the Rock and Roll Hall of Fame's very first class of inductees, "The Killer" holds numerous awards including a star on the Hollywood Walk of Fame, numerous GRAMMYs, the Recording Academy's Lifetime Achievement Award and countless other honors. He is truly rock's first great wildman, and shows no signs of stopping, touring around the globe still today!
# # #