TUNE IN ALERT: SCOOTER BROWN BAND TO PERFORM AS MUSICAL GUEST ON HUCKABEE ON TBN SATURDAY EVENING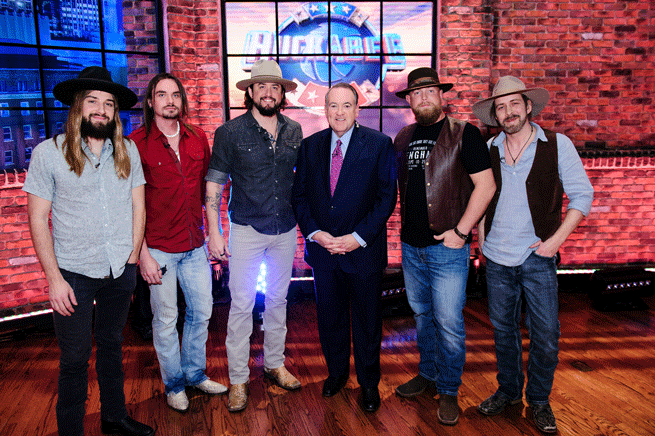 Above: L-R Nathan Lockhart, Carrigan Shields, Scott Brown, Gov. Mike Huckabee, Matt Bledsoe and Steven Sutherland  photo credit: @krisraephotography
NASHVILLE, Tenn. (February 9, 2018) – The Scooter Brown Band will be the featured musical guest on the highly acclaimed show Huckabee on TBN airing on Saturday, February 10 at 8/7c. Viewers can find their local TBN channel HERE or stream online HERE.
"The band and I are excited to have had the opportunity to perform on Huckabee for our national television performance debut," says Scott Brown. "The Governor, staff and crew were amazing to work with and we cannot wait for everyone to see it."
The Scooter Brown Band released their album "American Son" with the first single and title track of the same name featuring Country Music Hall of Famer Charlie Daniels in August of 2017 and were named one of Rolling Stone's "Artist To Watch" in Dec 2017.
About Huckabee
Mike Huckabee welcomes top newsmakers and guests from the world of entertainment and culture as well as innovators from business, education and science. All this and great music performances along with stories of everyday Americans who inspire make this a must watch show. For more information visit www.tbn.org/huckabee.
About Scooter Brown Band
After 4 years and 3 months, 2 tours overseas with 1 tour of combat in Iraq as a United States Marine, Scott Brown traded his guns in for guitars and hit the road. The Scooter Brown Band was formed and began playing mainly in and around Houston, Texas. The Scooter Brown Band has toured the country and opened for some of their biggest influences including  Charlie Daniels Band, Travis Tritt, Lee Roy Parnell and the Marshall Tucker Band, just to name a few. For the last year the band has been building a new era in their career. Defined as modern southern rock the band released American Son in Aughust 2017 and was named Rolling Stone Country Artist to Watch in December 2017.
For more information, please visit scooterbrownband.com. To keep up with the Scooter Brown Band on social media, follow them at @scooterbrownbnd on Twitter & Instagram and on Facebook.
# # #