TIM RUSHLOW & HIS BIG BAND CREATING NEW CHRISTMAS MEMORIES WITH "HOME FOR THE HOLIDAYS" PERFORMANCES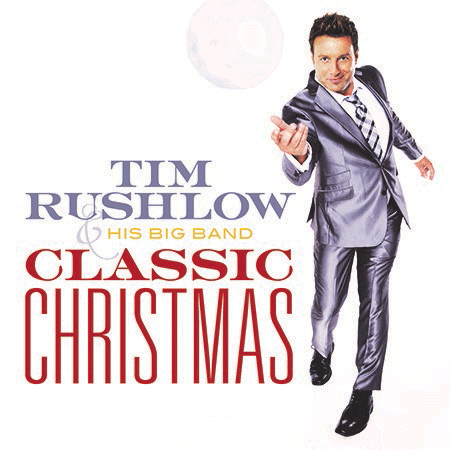 (click for Downloadable Photo) 
Historic Nashville Palace Transformed Into a Magical Winter Wonderland
NASHVILLE, Tenn. (November 29, 2017) – It's beginning to sound a lot like Christmas, because Tim Rushlow & His Big Band are coming "Home for the Holidays" as the historic Nashville Palace is transformed into a 1960s Vegas-style Supper Club for a magical evening in a Winter Wonderland! Purchase your tickets here.
​
​Tim Rushlow, joined by his daughter Bailey, and his 20 piece all-star Big Band, will entertain audiences with timeless Christmas classics from Bing Crosby, Frank Sinatra, Bobby Darin and Dean Martin, as well as fan favorites from Judy Garland, Buddy Holly and many others. The musical romance and swagger of an earlier era will transport you back to a time when Christmas was "classic."
"As a true fan of the holidays, the celebrations and music that goes with them, it is an honor to have the opportunity to perform my Christmas shows at The Nashville Palace," affirms Tim Rushlow. "These timeless songs are national treasures and doing them exactly as they were written with a 20 piece Big Band takes us all to that magical place where everyone is a kid! This is an unbelievably special show!"
"On behalf of the Nashville Palace and our guests, this residency has been a great success and we are proud to be a part of launching Nashville's newest must see music production for the holiday season. Come see what the buzz is about!" states Barrett Hobbs, owner Cumberland Hospitality Group.
"Tim Rushlow & His Big Band: Home for the Holidays" Residency Dates:
Friday, Dec. 1
Saturday, Dec. 2
Friday, Dec. 8
Saturday, Dec. 9
Friday, Dec. 15
Saturday, Dec. 16
Friday, Dec. 22
Saturday, Dec. 23
Friday, Dec. 29
Saturday, Dec. 30
Sunday, Dec. 31 New Year's Eve
The residency is sponsored by WSM-AM, Gray Line Tours, Jack Daniels, Roland Audio and Video, Springer Mountain Chicken, Nashville Convention and Visitors Corp, FBT Speakers and Shure Microphones.
Keep up with Tim Rushlow on his website and by following him on Facebook and Twitter
About Tim Rushlow:
A versatile entertainer who sold millions of records during his time as lead singer of country music super group Little Texas, Tim Rushlow is a master song interpreter with a deep, abiding love for the classics. During the band's impressive run in the '90's, he and the rest of the Little Texas members charted over a dozen hits including "God Blessed Texas" and the multi-genre crossover smash "What Might Have Been." Following the band's breakup, Tim embarked upon a solo career with Atlantic Records and released a self-titled CD that yielded the heartwarming Top Ten hit "She Misses Him," about a couple's touching battle with Alzheimer's. Following a few more endeavors in musical groups and pairings, in 2009 Tim decided to refocus his energies on honing his performing skills as a solo act, launching a well-received acoustic tour at smaller listening rooms around the country. The challenge of engaging audiences and laying his emotions bare on the stage in front of intimate crowds night after night fired up Tim's creativity to a new level and renewed his love for the classic sounds he grew up listening to and first cut his musical teeth on like Bobby Darin, Frank Sinatra, Perry Como, Dean Martin, and Andy Williams. And the experience soon inspired him to take his career in a whole new direction as the modern-day crooner he had always envisioned himself to be.
# # #
MEDIA ASSETS: Click Here