TUNE IN:  WATCH LEWIS BRICE
THIS WEEKEND ON ABC'S 'CELEBRITY FAMILY FEUD'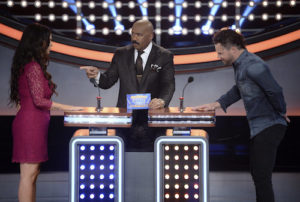 (click for Downloadable Photo)
Photo Credit: ABC Network
Rolling Stone 'Artist To Watch' competes alongside his brother Lee Brice and Jerrod Niemann on
ABC's Celebrity Family Feud!
NASHVILLE, Tenn. (August 24, 2017) — Mark your calendar and set your DVR for Sunday, August 27th (8:00 – 9:00 p.m. EDT). Make plans to tune in to "Celebrity Family Feud" on the ABC Television Network and watch the fun as emerging country performer Lewis Brice joins his astute family members as they battle to raise awareness and a cash donation benefitting their chosen charity on team Lee Brice. On the other side of the buzzer is rival team Jerrod Niemann, who together with his quick witted family brings the competition to new levels.
Steve Harvey, host of the long-running syndicated game show "Family Feud," creates memorable reactions and hilarious rapport with the competing teams as he rallies the celebrity families against one another to win cash for their chosen charity.
Team Lee Brice – Country music recording artist; playing for The Folds of Honor
o   Lewis Brice – Lee's brother, named "Artist to Watch" by Rolling Stone.
o   Felicia Watkins – Lee's cousin
o   James Houston Hicks – Lee's cousin
o   Jefferson Jeca Nyborg – Lee's cousin
VERSUS
Team Jerrod Niemann – Multiplatinum country music artist; playing for the United Service Organizations, Inc.
o   Morgan Petek Niemann – Jerrod's wife
o   Joseph Aaron Niemann – Jerrod's brother
o   Amy Jo Stelzer – Jerrod's sister
o   Julie Renee Schults – Jerrod's sister
About Lewis Brice
With a sound rooted at the intersection of country, rhythm & blues and southern rock, Lewis Brice comes at you with high-energy stories, sounds that catch the ear and beats that make you want to move. Born and raised in Sumter, South Carolina, he grew up singing in church choir and praise bands. Throughout his career he has spread his music in front of attentive audiences and continuously grown a strong fan base while playing shows with many talented artists he admires such as Lee Brice, Randy Houser, Jerrod Niemann, The Cadillac Three, Hank Jr. and many more.
Lewis made headlines with 2010's "Ordinary Girl," co-written with Dallas Rogers, which made a small window on the Mediabase charts and reached #67 on the iTunes Country Music chart. He appeared in CMT's first season of "Can You Duet," coming in 8th place out of the thousands who auditioned. Additionally, Lewis took on the lead acting role in the 2014 ACM Song of the Year music video for "I Drive Your Truck," performed by his brother Lee Brice.
For more information, please visit lewisbrice.com. To keep up with Lewis on social media, follow him at @LewisBrice on Twitter & Instagram and on Facebook.
About Celebrity Family Feud
"Celebrity Family Feud" is produced by Fremantle Media North America and is taped in front of a live audience in Los Angeles, California. Gaby Johnston and Jennifer Mullin are executive producers.
Like and Follow "Celebrity Family Feud" on:
Facebook: https://www.facebook.com/FamilyFeudABC
Twitter: https://twitter.com/FamilyFeudABC
Instagram: https://www.instagram.com/familyfeudabc/
Hashtag: #CelebrityFamilyFeud
# # #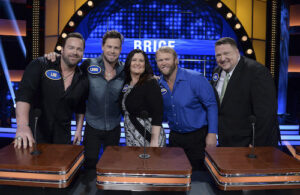 (click for Downloadable Photo)
Photo Credit: ABC Network