REVIVER/1608 JOINS AMERIMONTE RECORDS TEAM TO PROMOTE NEW MUSIC
BY NEO-TRADITIONAL COUNTRY ARTIST, SHANE OWENS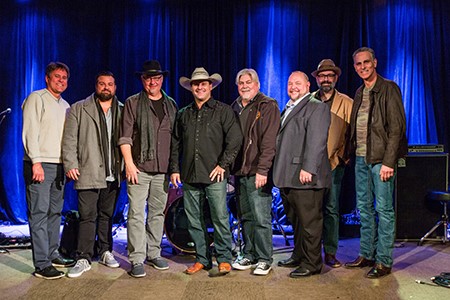 (L-R) REG's Gator Michaels, Amerimonte Record's Steve Popovich Jr., REG's Bob Reeves, Shane Owens, REG's Paul Williams, Joe Kelly, REG's Clay Henderson, REG's David Ross
NASHVILLE, Tenn. (January 22, 2018) – Amerimonte Records and Shane Owens are proud to announce the hiring of Reviver/1608 to promote Owens' new music coming this spring.
"On behalf of Amerimonte Records and Shane Owens we are excited to be working with the Reviver team. They have a great track record led by David Ross, Bob Reeves, Gator Michaels, Clay Henderson and now Paul Williams," says Steve Popovich Jr., President of Amerimonte Records, adding, "not only do we believe this is going to be a great year for country music but it's going to be an exciting year of new music by Shane Owens."
"When Steve and Joe shared Shane's music with us, we felt just as excited about bringing Shane's style and voice to every radio station in America," said David Ross, Founder, President and CEO of Reviver Entertainment Group.
# # #