NASHVILLE'S PAUL BOGART REINS IN A GOLD AT AQHA WORLD CHAMPIONSHIPS IN AMATEUR HEELING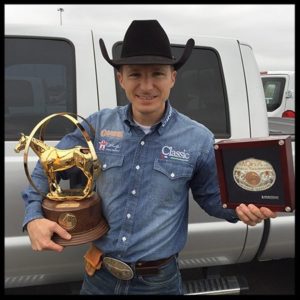 (click for Downloadable Photo)
Win Comes on the Heels of the Anniversary of First Single and Video Release "The Cowboy Way"
NASHVILLE, Tenn. (November 14, 2017) — Paul Bogart has been a cowboy as long as he can remember, growing up on a ranch in Oologah, Oklahoma. This past weekend team roping at the 2017 Lucas Oil AQHA World Championship in Oklahoma City with his father, Jack, he reined in another AQHA World Champion title in the AQHA Amateur Heeling event on the heels of the nine year anniversary of his first single and video of a classic cowboy tune appropriately titled "The Cowboy Way," written by Larry Rainwater. Watch the video of "The Cowboy Way" HERE.
"I have been blessed to have a few of these Championships," said Paul Bogart, adding, "it's been a really good run, and I hope to be back next year and do it again."
The digital release of "The Cowboy Way" is available on all digital platforms. Paul recorded the acoustic performance during the "Leather" sessions, which were produced by Trent Willmon. This is a brand new version of the song that inspired the video that has received more than 1.3 million views on Youtube.
Paul Bogart is sponsored by Olathe Boots, Shorty's Caboy Hattery, Classic Rope, Taylor Guitars and Cinch Jeans.
Paul Bogart Tour Dates:
Dec. 30 – Ramona, OK – Cherokee Casino
Dec. 31 – Claremore, OK – Dog Iron Saloon
Jan. 11 – Indianapolis, IN – Archery Trade Association Show
Jan. 12 – Wyandotte, OK – Brodertown Casino
Feb. 1- Phoenix, AZ- Corona Ranch
Mar. 31 – Warner, OK – Connor State College Rodeo Team Fundraiser
May 4 – Wyandotte, OK – Brodertown Casino
Jun. 1 – Tulsa, OK – Bit By Bit Fundraiser
Sep.15 – Grover, OK – North Eastern Oklahoma Electric Coop
2018 tour dates continue to be announced. Find everything Paul here: Spotify, Apple Music, Amazon Music and on Twitter and Facebook.
About Paul Bogart
Though his songs are fresh and he himself is young, he is an old soul with a knack for capturing time-honored traditions and summing up classic sentiments in catchy, three-minute songs. Exuding sincerity and a rare, down-to-earth charm, Paul Bogart is, simply put, the epitome of traditional country music. After nearly a decade of writing, playing and touring, Bogart has begun pulling in big numbers in every arena, literally. Whether it's the main stage at the AQHA World Championships with thousands in attendance or the social media scene with almost 4 million fans reached through his YouTube tribute, "Cowboy Ride," Bogart's songs have connected with America's Heartland in a real, tangible way that modern country has perhaps missed. For more information on Paul Bogart visit www.paulbogart.com.
About the Lucas Oil World
The Lucas Oil World is the premier event in the equine industry. The show brings together exhibitors, owners, breeders and fans of the American Quarter Horse from around the world for two weeks of exciting competition, educational opportunities and a bountiful trade show.
Lucas Oil is proud to be the title sponsor for the 2017 Lucas Oil AQHA World Championship Show. Other show and event sponsors include Adequan®, Bank of America, B&W Trailer Hitches, Cripple Creek, Boehringer Ingelheim, Ford, John Deere, Justin Boots, Markel Insurance Co., Montana Silversmiths, Nutrena, SmartPak, Wrangler, Zoetis, The American Quarter Horse Journal, American Quarter Horse Foundation, Iconoclast, Oklahoma City Convention & Visitors Bureau, State Fair Park, Four Sixes Ranch, USRider, Elite Stall Mat Rentals and Metro Golf Cars.
For more information on the Lucas Oil World and a tentative schedule, visit www.aqha.com/worldshow.
# # #