MOE BANDY JOINS 117 PUBLICITY ROSTER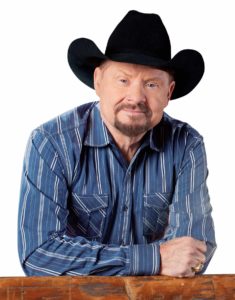 NASHVILLE, Tenn. (November 10, 2017) – Country music traditionalist, Moe Bandy, has joined 117 Publicity's roster for exclusive PR representation. The "rodeo cowboy's" long-running career has been in full swing lately, with the release of his latest album, Lucky Me and an upcoming project in early 2018, not to mention he is a road warrior playing all across the country! Fans can check up on his tour dates and purchase Lucky Me now at www.moebandy.com.
"I am really excited about working with Zach and 117 Publicity. We're looking forward to some neat things happening for traditional country music in the future with 117," said Bandy.
"I've loved working with Moe and his team in the past, so I'm excited to be onboard again for his future projects and continued road success! Adding Moe to the 117 Publicity roster demonstrates our commitment to traditional country music and the artists that have given so much to this genre. I love everything about our roster of clients and their music," said Zach Farnum, President & CEO of 117 Entertainment Group.
Moe Bandy Tour Dates:
Nov. 25 – Mo's Place – Katy, Texas
Dec. 02 – Longhorn Saloon – Fort Worth, Texas
Dec. 31 – The Welk Theatre – Branson, Mo.
Jan. 14-21 – Moe Bandy Cruise
Jan. 26 – Choctaw Event Center – Grant , Okla.
Jan. 27- Feb. 04 – Family Reunion Cruise
Feb. 10 – Moe & Joe Show – Weirsdale, Fla.
Feb. 24 – The Stagecoach – Fort Worth, Texas
March 02 – Main Street Crossing – Tomball, Texas
March 17 – The New Granbury Live – Granbury, Texas
Aug. 02 – Clayton County Fair – National, Iowa
Oct. 24 – Dick Clark's American Bandstand Theatre – Branson, Mo.
About Moe Bandy 
Moe Bandy's country music accomplishments are many, including 10 #1 songs, 40 Top Ten hits, 5 Gold Records and numerous ACM and CMA Awards. He started his recording career while he was a sheet metal worker in San Antonio, Texas, but after a decade of hard labor, Moe Traded his sheet metal for Gold albums. In the mid-seventies when the country pop Kenny Rogers, John Denver and the outlaw sound of Waylon and Willie was all the rage, along came the traditionalist Moe Bandy.
The Texas singer with twin fiddles and steel guitar in the band kept Texas-style Honey Tonk music alive, but it wasn't easy. In 1972, Moe met record producer Ray Baker on a hunting trop and convinced him to listen to some demo tapes he had made. Baker agreed to produce Moe if he was willing to pay for recording sessions. Moe agreed and out of that session came Moe's first hit song "I Just Started Hatin' Cheatin' Songs Today." Keep up with Moe at www.moebandy.com
About 117 Entertainment Group
117 Entertainment Group is a multi-faceted entertainment firm specializing in management and publicity/marketing campaigns for musicians, events and brands. They represent the likes of Randy Travis, Jerry Lee Lewis, Chuck Negron, Bobby Bare, Lewis Brice, Lee Roy Parnell Paul Bogart and Scooter Brown Band, just to name a few. Zach Farnum has managed PR campaigns for an eclectic list of artists as well as high-profile events and festivals including A Heroes and Friends Tribute to Randy Travis, Charlie Daniels' Volunteer Jam, Country Stampede, Tree Town Music Festival and more. He serves as a co-chair of the TJ Martell Foundation's Young Professionals Council and was recently appointed to the board of directors for the Nashville Association of Talent Directors where he serves as Membership Chairman. Bev Moser has worked with country artists, television actors and celebrities, as well as book authors creating articles and reviews, conducting interviews and covering an endless stream of festivals and press conferences. Together at 117, the team brings a brand-driven approach to management, publicity and marketing campaigns and continues to be a go-to firm for multiple high-profile projects.
For more information visit www.117group.com.
# # #