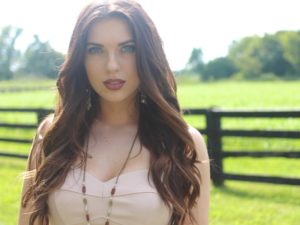 Soft-spoken in conversation, 20-year-old Jenny Tolman is bold and courageous behind a guitar, able to make sense of life's challenges by putting them under a verbal microscope. Her voice mixes the smokiness of Shelby Lynne with the accessibility of your next-door neighbor. Her self-written stories ring true for just about anyone who hears them.
"My music is very honest," Tolman says. "My goal is to help other people. If I keep myself hidden, then that's not really going to help anyone."
The songs are making an impact. "Damn Cigarettes," a dark composition that investigates the dangers of addiction – to love or to nicotine – placed second in the country category in the highly regarded Unsigned Only songwriting competition, which features such notable judges as Rosanne Cash, Dustin Lynch and Craig Morgan. "Cigarettes" also landed Tolman an honorable mention in the International Songwriting Competition, placing her in the elite 1% among some 19,000 entries.
Her debut is a self-titled EP that ranges from the acerbic, bluesy opener, "Ain't Got a Prayer," to the sassy closer, "Spend a Little Time." Along the way, Tolman explores multiple melodic emotions and specific lyrical imagery, inspired by the likes of Miranda Lambert, Brandy Clark, Ashley Monroe and Kacey Musgraves.
"Her vulnerable writing, inspired by real-world issues, is beyond her age," says producer Judy Rodman, an Academy of Country Music award-winner. "So is her motivation."
Grammy Nominated Producer of Brandy Clark's 12 Stories album, Dave Brainard, adds "The honesty and purity of Jenny's voice is like a velvet dagger. It kills you in the best kind of way."
For more information please visit jennytolman.com/.