EXILE KICKS OFF 2018 CELEBRATION OF 55TH ANNIVERSARY AS SPECIAL MUSICAL GUEST ON HUCKABEE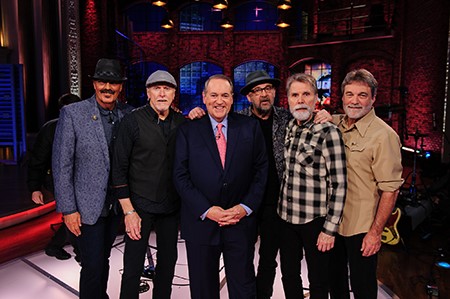 Pictured Above: L to R
Marlon Hargis, Les Taylor, Gov. Mike Huckabee, JP Pennington,
Sonny Lemaire, Steve Goetzman
Whisperin' Bill Anderson Joins Exile For 40th Anniversary Performance Of "Kiss You All Over" On Grand Ole Opry Stage
NASHVILLE, Tenn. (January 16, 2018) – Crossover hit-making band, Exile, is celebrating a distinguished career of 55 years as the longest running self-contained vocal group. This past weekend they had the distinguished honor of being the featured musical guest performing their hit songs "It'll Be Me" and "Give Me One More Chance" on the highly acclaimed TBN show Huckabee.
Guests at the Grand Ole Opry experienced a special vocal event when friend and Opry member, Whisperin' Bill Anderson joined Exile for a 40th Anniversary performance of "Kiss You All Over" on the Opry stage. The iconic song spent four weeks at the top of Billboard's pop chart for Exile in 1978 and was recorded by Anderson 1979 on his "Ladies' Choice" album. WATCH VIDEO HERE
 "We've talked about doing it together for a long time, and no better place to do it but on the stage at the Opry," said Exile.
Exile has sold over 8 million records, including three Gold records and eleven number one hit songs, along with numerous hits on the pop and country charts. They are known for major hits including "Kiss You All Over," "Give Me One More Chance," and "I Don't Want to Be a Memory," to name a few. Exile music is available on all digital platforms here.