7th ANNUAL NATD HONORS GALA RECOGNIZES CHARLEY PRIDE, JEANNIE SEELY, DAVID CORLEW, BARBARA HUBBARD, SEAN HENRY AND BOBBY ROBERTS 
SPECIAL APPEARANCES BY CHARLIE DANIELS, BOBBY BARE, JOHN ANDERSON, LORRIE MORGAN, BILL ANDERSON, DOC MCGHEE AND GRAND OLE OPRY GENERAL MANAGER SALLY WILLIAMS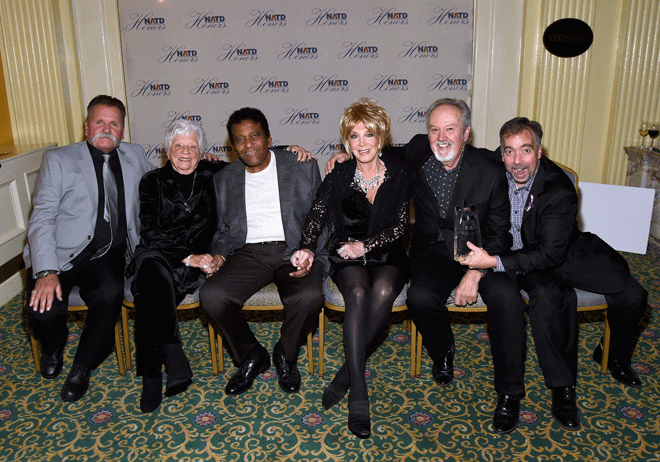 (click for download)
L to R: Honorees David Corlew, Barbara Hubbard, Charley Pride, Jeannie Seely, Bobby Roberts , and Sean Henry attend the 2017 NATD Honors Gala at Hermitage Hotel on November 14, 2017 in Nashville, Tennessee. (Photo by Rick Diamond/Getty Images for NATD)
Evening Presented by the Grand Ole Opry and Springer Mountain Farms  
NASHVILLE, Tenn. (November 14, 2017) – The Nashville Association of Talent Directors' (NATD) 7th Annual Honors Gala recognized some of the best in their respective fields for their accomplishments and service to the Nashville entertainment industry. The event, presented by the Grand Ole Opry and Springer Mountain Farms, featured some of Nashville's best to present and show respect to the honorees and included emcees Nash Nights Live's Shawn Parr and WKRN's Stephanie Langston.
"It was a wonderful, intimate evening at the Hermitage Hotel, honoring some of the best in our industry," said NATD President, Steve Tolman. "It is fantastic to be able to come together as a community for a night to celebrate our colleagues' accomplishments."
Nashville Predators' CEO, Sean Henry, was presented the first award of the evening by MWS Group's Chaz Corzine, a twenty-year veteran manager of Christian music artists.
Country legend and member of the Country Music Hall of Fame and member of the Grand Ole Opry, Charlie Daniels, who has worked for over more than 44 years with President/Co-Owner of Blue Hat Records, David Corlew, shared stories of their long working relationship and presented his lifelong friend the award.
Doc McGhee, industry visionary and accomplished artist manager who heads McGhee Entertainment gave remarks in honor of award recipient Barbara Hubbard, Executive Director of the American Collegiate Showcase and respected talent promoter.
In celebration of recipient Bobby Roberts, United Talent Agency agent and Roberts' son Travis James took to the stage to introduce country music icon John Anderson, who sang "Seminole Wind." United Talent Agency co-head Lance Roberts spoke of his father's accomplishments, with the trio handing Bobby his award.
Country Music Hall of Fame member Bobby Bare performed "(I'm So) Afraid of Losing You Again" in honor of Charley Pride, a living legend, who has sold tens of millions of records worldwide with his large repertoire of hits, and is a Grand Ole Opry star and three-time GRAMMY® award winner. Robert K. Oermann, music journalist and author recognized as an authority on country music remarked on Pride's career.
GRAMMY® award-winning artist, "Miss Country Soul", Jeannie Seely was paid a musical tribute by fellow Grand Ole Opry member Lorrie Morgan, who performed "Don't Touch Me." Sally Williams, SVP of Programming and Artist Relations for Opry Entertainment and General Manager of the Grand Ole Opry spoke of Seely's illustrious career. Bill Anderson, a member of the Grand Ole Opry for over fifty years presented her with her award.
NATD President Steve Tolman and Directors Blake McDaniel and Tony Conway bestowed a $2,500 donation to Scott Hamilton's Scott Cares Foundation, $5,000 donation to Barbara Hubbard's ACTS and a special presentation of a washer and dryer to Dupont Middle School in Hermitage, TN.
About NATD
The Nashville Association of Talent Directors (NATD) was founded in 1958 and professionally represents, directs, and promotes the entertainment industry through its members. Today those members generate over $300 million dollars annually for Nashville-based artists. The organization not only serves as a forum for idea exchange among its members, it also serves as a vehicle for other facets of the industry to share information vital to the overall growth of the Nashville music and entertainment industry. NATD members foster camaraderie among "friendly competitors" which seems to be unique to the close-knit Nashville music and entertainment community. As part of its philanthropic program NATD provides scholarship funds for students showing exemplary performances in academics, civic duties, and personal goals. For more information, please visit www.n-a-t-d.com.
Past NATD Honors honorees include:
2016 – Rod Essig, Scott Hamilton, Doc McGhee, Leon Russell, Mike Smardak, P.K. Subban and Randy Travis
2015 – Mayor Megan Barry, Sarah Trahern, Charlie Brusco, Mike Wolfe, Peter Weber and Steve Lassiter
2014 – Gov. Bill Haslam, Rob Beckham, Tim Corbin, Demetria Kalodimos, Michael W. Smith, JP Williams and Charlie Daniels
2013 – Bernie Cahill, Tom Condon, Chaz Corzine, Martina McBride, Kevin Neal and Bob Romeo
2012 – Mike Fisher, Clint Higham, John Huie, George Jones, Robert Williams and Alan Valentine
2011 – Alabama, Tony Conway, Mayor Karl Dean, James H. Gosnell Jr. and Barry Trotz
# # #